Being an entrepreneur is hard. And being one over a decade is harder still. You feel like your body indicators are broken. In every moment, I thought I was working as hard as possible but every once in a while when I'd look back I'd think my performance was dipping. It was frustrating. I was unable to sustain the high intensity that I prided in myself. I can't be overworked, I enjoy what I am doing. Was my body limiting my mind or was it my mind limiting itself? I can't afford to take a rest day.
It wasn't until I started training for a triathlon I realized what was going on. There's the concept of threshold in endurance training. If we push our bodies beyond the threshold heart rate, our bodies quickly react and make us slow down or stop. For sports like Triathlon, you want to be just under your threshold to keep going. In endurance training, you steadily improve the threshold to allow your body to sustain high effort for a longer duration.
I improved quite dramatically when I started my training, but then I soon started plateauing. I wasn't able to run any faster, increase my FTP (power output during cycling). The goal of running 5km under 25mins remained elusive. 180+ watts FTP seemed unattainable. I would finish every workout disappointed that I didn't do any better and I knew that I had more in me. I had hit a mental barrier.
Early March, I did a virtual sprint triathlon - 1.5km running, 20km cycling, and 5k running. I had no benchmark and expectations on what my final timing would be. My coach had offered that I can do each leg on separate days. I was keen to experience the full load and decided to do it one morning with as little a break between legs as I could. I was impressed that I finished in about 1hr 6mins and the best part was the 5km was exactly 25mins. I didn't think I could do 25 mins after an intense cycling session.
I was interested in seeing how did the athletes do around 1-hour mark. I felt that was definitely within my reach. I realized my 5km running was the most lacking. I then reverse calculated the pace required to shave off the extra 6 mins.
It's surprising but this was the first time I ever thought of my average pace while running. My earlier approach was to try to run as fast as I could for as long as I could. From my limited experience, I would temper my start for longer distances. Invariably I would burn out and slow down during the middle section and try for a burst at the end to salvage whatever I could. It was the middle section where I would drift off and have a lot of chatter in my head "You are too tired, let's stop and try again later", "You should have gone slower in the beginning", "Should I slow down further to go faster later", "You are training too hard, maybe take it easy".
I find it very hard to gauge anything less than maximal effort. I work very intensely on a problem, generally close to the deadline. And then the burnout spills into the remaining list. This created a work pattern that allowed me to push myself when the time came but also I broke my internal compass and could not do a sustained moderate effort.
In sports, I realized there was very little one could at the end. The crux was a constant maximal pace for the given distance. And the middle section was critical. Grudgingly I realized this also applies to work. We tend to drop our pace when we are sufficiently in the thick of things but not close enough to see the finish line.
When I did the math, I realized that I could improve my average pace to 4:30 mins/km and that would translate to 22:30mins for 5km. This became a very easy goal for me to monitor when I was running. Every kilometer I would try to be under this pace and if I was over, I would remember the number of seconds and try to do a faster segment that would make up for these lost seconds. It worked! I had finally conquered the middle section of self-doubt and drifting off. In my next attempt, I came very close to achieving my 1hr sprint marathon.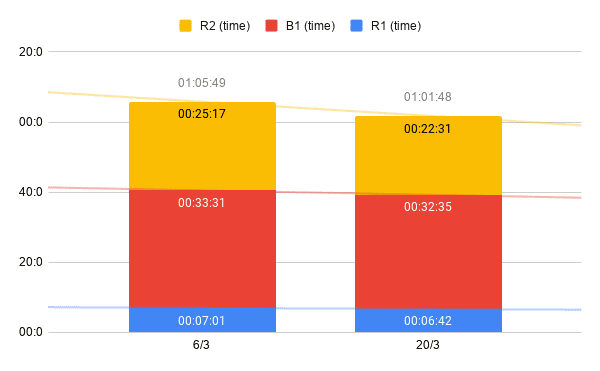 In two weeks I was able to improve my sprint triathlon (R1=1.5km running, B1=20km cycling, R2=5km running) timing purely by focusing on average pace. I still have to work on my cycling
I applied this framework to my half marathon and finished in 1hr 56mins. Beating my earlier best of 2hr 30mins before I started training in earnest.
However, I was unable to apply this framework to my cycling. Running on a flat surface or even a single course is very different from cycling on Zwift. It has multiple courses with varying gradients and lots of riders competing. I tried various strategies: sticking to a group that I thought I could keep up with in the first stage of the race only to realize that they were saving themselves for the real hard section. I tried to maintain a high power throughout but this didn't work because that's not sustainable over a long course and invariably I would drop opportunities on flat sections or downhills.
I finally found bestbikesplit.com (BBS) which helped me develop a race plan. I tweaked the settings (FTP) to push myself. I created a template that helped me format this into a one-pager that I could easily refer to while riding. It took me some iteration to get it right. I highlighted the sections of high effort and rest. I grouped these into blocks to comfort myself that it's only 13mins of effort and then there is a break.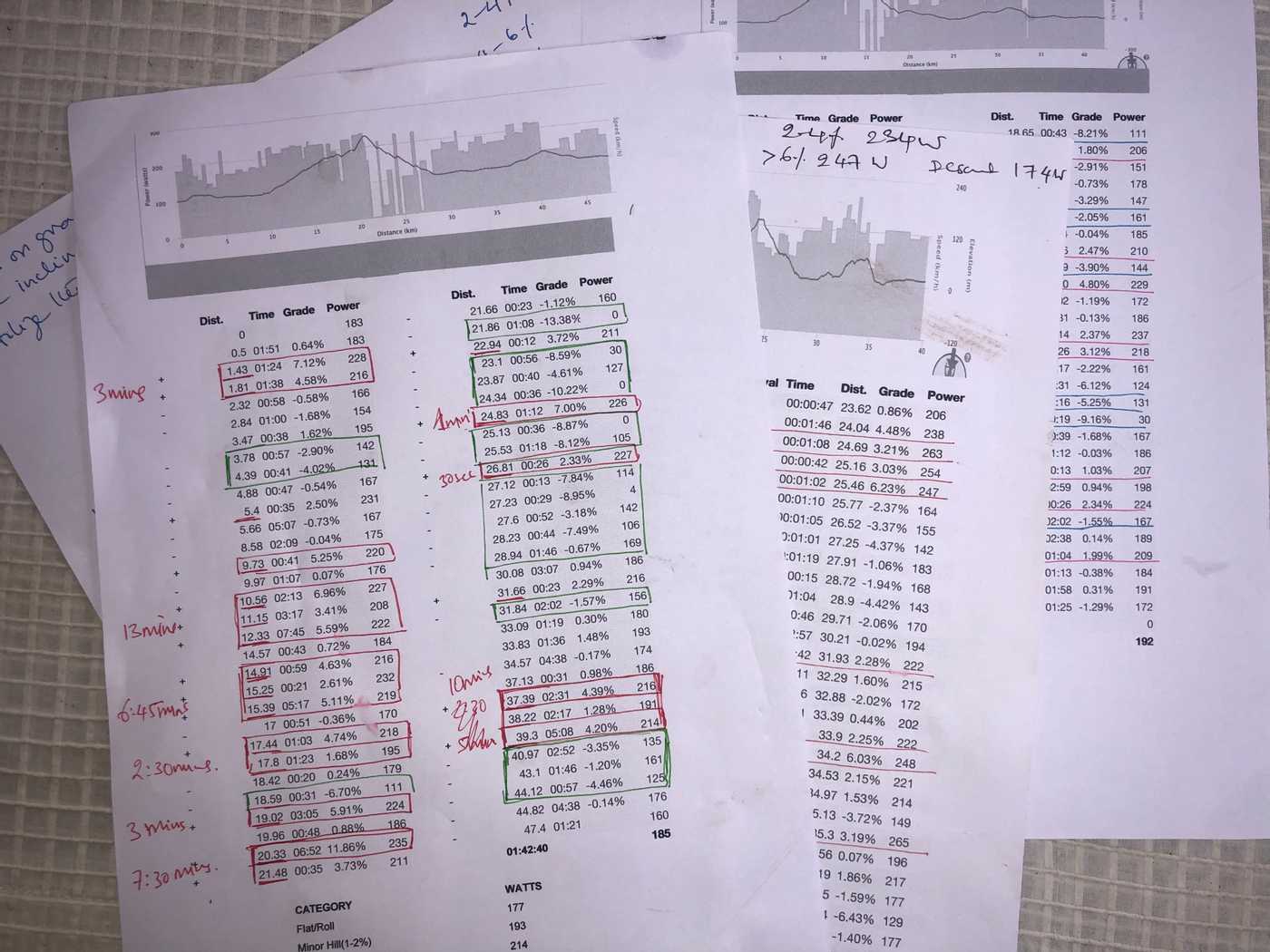 I highlighted sections of high effort and rest. I finally boxed them into blocks (e.g. 13 mins, 10 mins) that made me much more comfortable
This made it much easier for me. It boxed the high effort and therefore removed the self-doubt. I could see always see the light at the end of the tunnel. This was my first race where I finished before the planned time.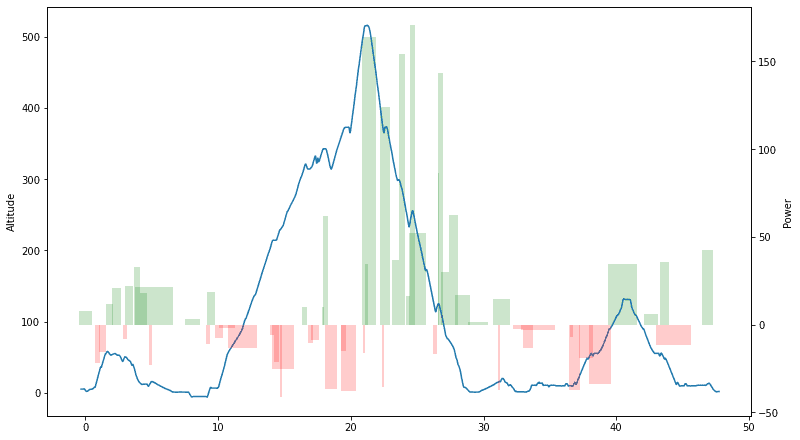 My first race where I finished 30 seconds before plan. I analyzed my race plan vs actual Check out code here
While you may not have a tool like BBS to create your plan for regular work, you need to drop the mode or approach of maximal effort forever. You need to work at a constant pace just below the threshold. You need to box your maximal effort into blocks so that you can see light at the end of your tunnel and hold yourself accountable. And most importantly, you need to take your rest days.